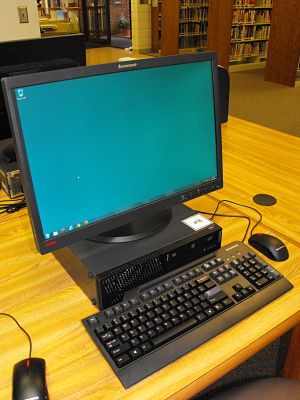 In order to advance our mission to foster lifelong learning, build cultural connections, and support recreational interests, the Richwood-North Union Public Library provides free access to public computers, basic software applications, a scanner, and the internet. Free Wi-Fi is also available throughout the library.
Library computers have internet access, word processing, presentation, and spreadsheet programs. All computers can accept USB drives. Computers do not have DVD drives. We prohibit the installation of software or hardware on library computers.  All computers can print to a color printer. Please refer to our Print & Fax Services page for specific pricing.
Computers are available on a first-come, first-served basis and must be reserved at the time of use at any public service desk. A library card is recommended but not required to use a computer. Computer time is limited to one hour per day, and more time may be available as scheduling permits.
For more information regarding the use of the Richwood-North Union Public Library's computers, please review our Internet Use Policy.